Please scroll down for the English version.
Von diffus zu differenziert: Multi-Service-Pflegezentrum von Studio Capitanio

Das italienische Büro Studio Capitanio hat in Zusammenarbeit mit DbmLab einen Erweiterungsbau für die Sanitäre Wohnbetreuung von Nembro entworfen: seit 2021 ein Lichtblick für die pandemie- und leidgeprüften Senioren der Region Bergamo.

29. September 2021 | ÖZLEM ÖZDEMIR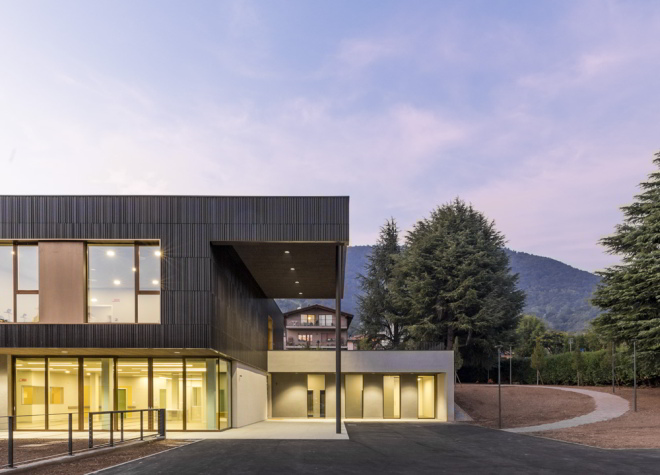 M
it ihren rund 12.000 Einwohnern ist die italienische Gemeinde Nembro wahrlich kein großer Ort. Umso großartiger ist ihre Bemühung, den Menschen architektonische Erneuerung zu bieten. Hierzu gehört das seit 2021 einsatzbereite Multi-Service-Pflegezentrum von Studio Capitanio Architetti und DbmLab. Der planerische Anstoß kam 2016 wegen Platzmangel der Senioreneinrichtung in der Via dei Frati. Zu ihren 4000 m² sollten 2000 m² hinzukommen. Benötigt wurde eine integrative Tagesbetreuung mit dreißig Plätzen, ein Ambulanzsystem, Fitnessräume, Therapiekabinen für externe Nutzer sowie Büros für den Häuslichen Pflegedienst. Die Fondazione RSA di Nembro Onlus übernahm die Initiative und rief einen öffentlichen Wettbewerb aus.
Das Kürzel RSA steht für Residenza Sanitaria Assistenziale, zu deutsch Sanitäre Wohnbetreuung. Dabei handelt es sich um ein ambulantes Heim für einen variablen Zeitraum (von einigen Wochen bis auf unbestimmte Zeit). Aufnahme finden pflegebedürftige Personen, die nicht zu Hause gepflegt werden können und eine besondere medizinische Versorgung benötigen. Die RSA gleicht einem Zwitter. Sie unterscheidet sich vom Krankenhaus, das sich an akut erkrankte Patienten wendet, und vom Pflegeheim, das für ältere Menschen bestimmt ist, die sich zumindest teilweise selbst versorgen können.
Ähnlich komplex wie die Kategorie RSA ist auch der Siegerentwurf von Studio Capitanio aus Bergamo — dem die Bauausführung und Teamleitung unterstand — und DbmLab aus Mailand. Die erste Aufgabe der Architekten bestand darin, sich mit der bemerkenswerten Lage der bestehenden Einrichtung auseinanderzusetzen. Eines ihrer vielen Abschnitte dockt direkt an eine Kirche an – die San Nicola. Davon ausgehend winkeln sich andere Bauflügel mit geneigten Dächern ab. In südlicher Richtung, zur Via Ronchetti hin, bilden sie einen hofähnlichen Raum. In nördlicher Richtung geht ein dreistöckiger Trakt in einen kompliziert zergliederten Anbau über, der heute nicht mehr besteht. (Dieses "ausgefranste" Ende wurde im Zuge des Siegerentwurfs transformiert.)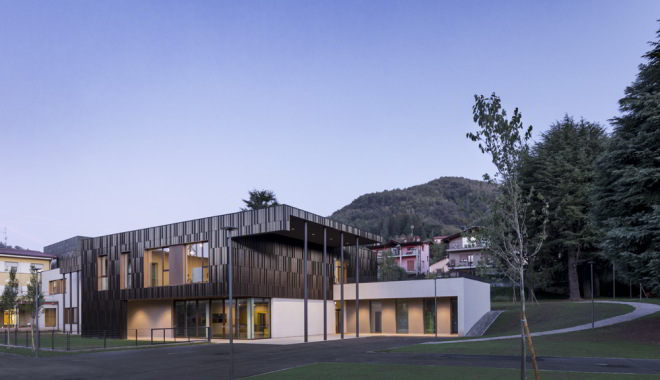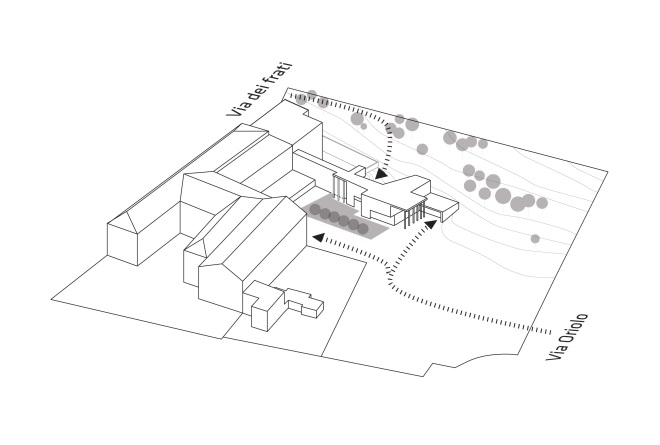 Was ist das Charakteristische am neuen Erweiterungsbau? Im Grunde greift er das Entstehungsprinzip der Anlage auf: So wie vorher die RSA an die Kirche anknüpfte, entwickelt sich auch die aktuelle Erweiterung aus der bestehenden Einrichtung heraus. Ihr bereits erwähntes "ausgefranstes" Ende im Norden wird zum neuen Anknüpfungspunkt und bei der Gelegenheit umgewandelt. Damit entsteht an der Via dei Frati ein kompakter mehrstöckiger Kopfbau mit Flachdach: Der Speisesaal. (Dieser Bauabschnitt erhält ein Fassadenmaterial, das der Entwurf nur hier aufweist: dunkle perforierte Blechelemente.) Vom Speisesaal aus strebt der Baukörper, bepackt mit dem neuen Raumprogramm, in Richtung Via Oriolo. Das tut er jedoch nicht in glatter und stringenter Manier, etwa als ein einfacher länglicher Block. Vielmehr reagiert dieser zweistöckige Riegel auf jedem Abschnitt seines Weges individuell. Er beginnt als ein schlanker Korridor: die Nabelschnur zum Speisesaal. Daraus wachsen im weiteren Verlauf — in Richtung Norden — verschiedene Ausstülpungen, die den Bau in die leicht ansteigende Topografie verankern. Das heißt, das Architekturteam nutzt einen gegebenen Höhenunterschied geschickt aus: Sie lassen das Bauvolumen rückwärtig anlehnen, indem sie diesen Bereich auffüllen und als Garten mit Wegen gestalten, der vom Obergeschoss aus zugänglich ist. Überblickt man also das Gebäude von seiner Nordseite, wirkt es wie eingeschossig (ausgenommen der Kubus mit dem Speisesaal) und macht einen insgesamt ruhigen Eindruck.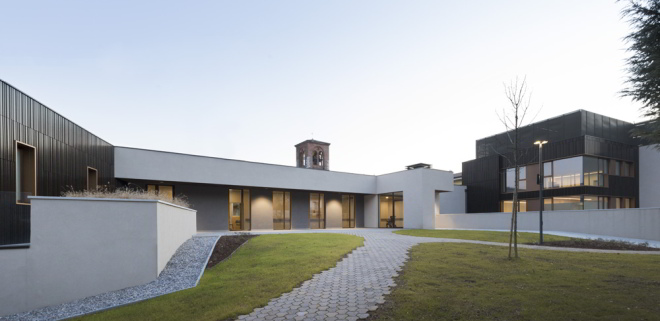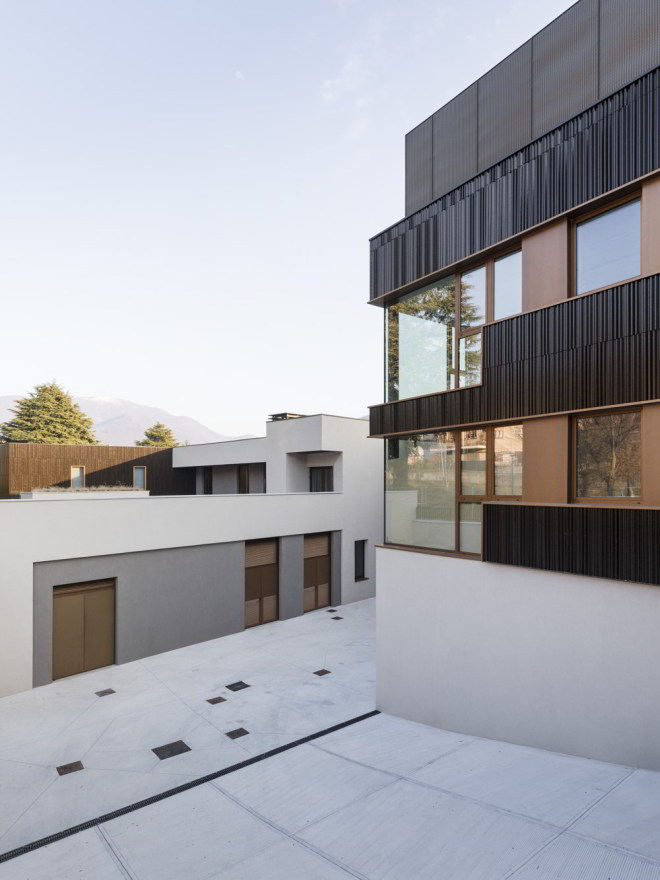 In Richtung Via Ronchetti, verhält sich der Baukörper ganz anders: Er präsentiert sich mit zwei Geschossen und ist durchsetzt mit einer ganzen Reihe von Gestaltungsmitteln. Es gibt glatte, hell verputzte Bereiche, in der Länge betonte Fenster mit tiefen Laibungen oder raumhohe Fensterbänder. Vor allem dominiert das Prinzip der Abstufung und Staffelung: Aussparungen der Volumen (immer hervorgehoben mit hellem Anstrich) und auskragende Flachdächer mit hohen schlanken Säulen verschaffen schützende Nischen und luftige portikoartige Zonen.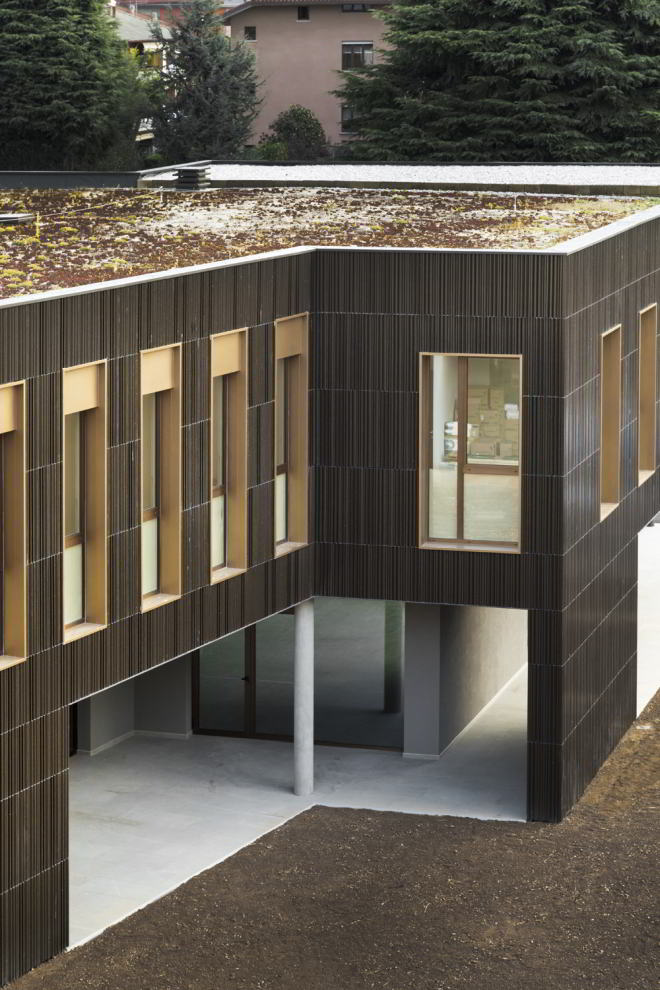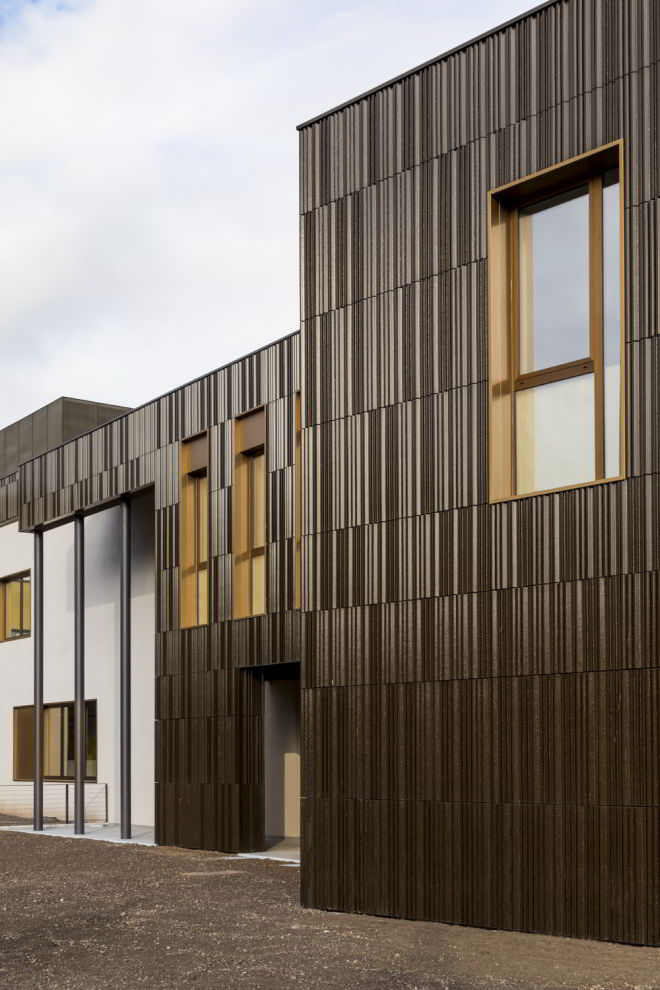 Typisch für diese Südfassade ist jedoch insbesondere die Verkleidung aus Terrakotta. (Die Nordfassade erhält dieses Material nur in ihren Randbereichen, siehe etwa Speisesaal). Dieses glasierte dunkle Terrakotta-Element betont — mit ihrer markanten länglichen Struktur — die Vertikale und Höhe des Gebäudes. Seine Linien sind nicht ganz regelmäßig angeordnet und sorgen damit dafür, dass nicht zu viel visuelle Starre aufkommt. Die keramischen Flächen verleihen der Oberfläche etwas Organisches; sie erinnern etwa an die Kerbungen einer Pappelrinde. Ihre variablen Profile sorgen auch dafür, dass sie je nach Lichteinfall mit einem anderen Eindruck überraschen — mal nähern sie sich einem glänzenden Schwarz, mal einem warmen Braunton. Außerdem fällt bei genauerem Hinsehen auf, wie sich die Terrakotta-Struktur mit einer "Fassadenspezialität" der San Nicola zu decken scheint: der traditionellen gemusterten Borlanti-Verkleidung aus fischgrätig angeordneten Steinen.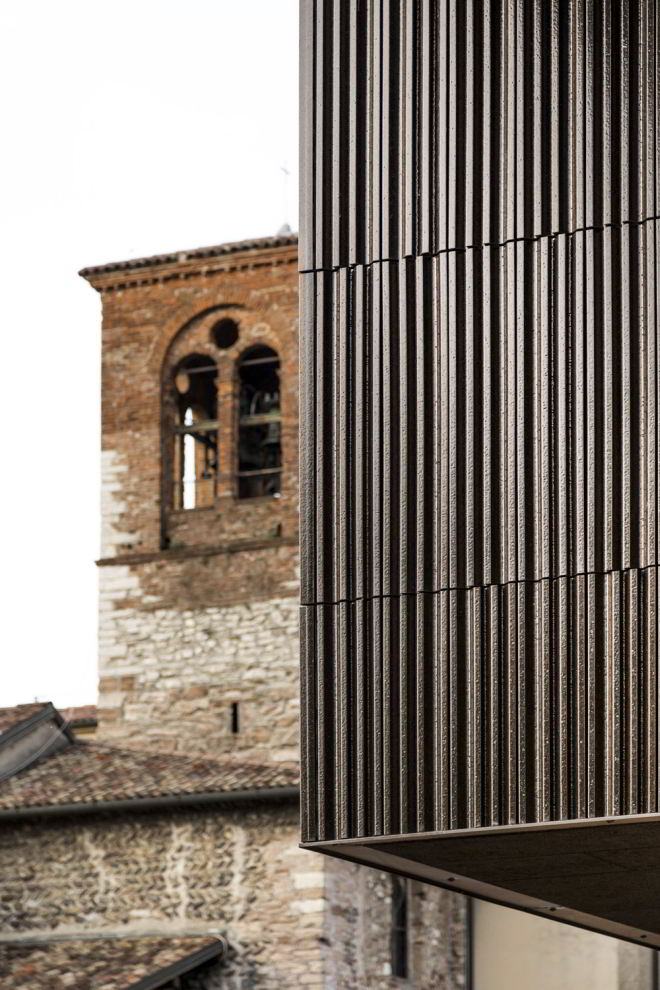 Das neue Multi-Service-Pflegezentrum von Nembro fungiert wie ein angewachsener Flügel, ein Arm — ausgestreckt wie zur Begrüßung. Neben dem Raumgewinn drückt das Gebäude also eine Geste aus: Es will Besucher willkommen heißen. Zugleich schenkt es dem gesamten RSA-Areal, das eine deutliche Nordsüd-Betonung hat, einen Gegenpart und Ausgleich: eine Achse von West nach Ost, die für klare Zonen sorgt (siehe der Garten im Norden). Die facettenreiche Hülle (insbesondere die Südfassade) mit ihren Vor- und Rücksprüngen, Nischen und Zwischenzonen, Nuancen und Schattierungen in Farbe und Textur bewahrt die Architektur davor, glatt und unnahbar zu wirken. Selbst der erste dunkle Gesamteindruck wird aufgewogen durch seinen Vorteil, zurückhaltend zu sein und dient gleichzeitig als lebhafter Kontrast zu den weiß-grauen Putzfassaden und dem warmen abendlichen Licht der Innenräume. Nicht zuletzt dient der neue Mitspieler dieser Parzelle dazu, Kirche, Pfarrhaus und RSA — ein zerstreutes, unübersichtliches Ensemble — eine Abrundung zu verleihen und einen modernen Akzent zu verleihen. Das Multi-Service-Pflegezentrum von Studio Captanio gibt dem gesamten Gelände zusammen mit der neuen Landschaftsgestaltung spürbaren Rückhalt. Es verwendet bei alldem jedoch eine Architektursprache, die der Anlage nicht völlig fremd ist: Es übernimmt das Prinzip der zusammengesetzten Bauabschnitte, es verfeinert das zufällig Diffuse ins bewusst Differenzierte. Das RSA tritt mithilfe seines letzten Anbaus erfrischt und selbstbewusst hervor und signalisiert Orientierung: eine Orientierung, die hilfesuchende Senioren und ihre Angehörigen zu schätzen wissen und die Geborgenheit verspricht.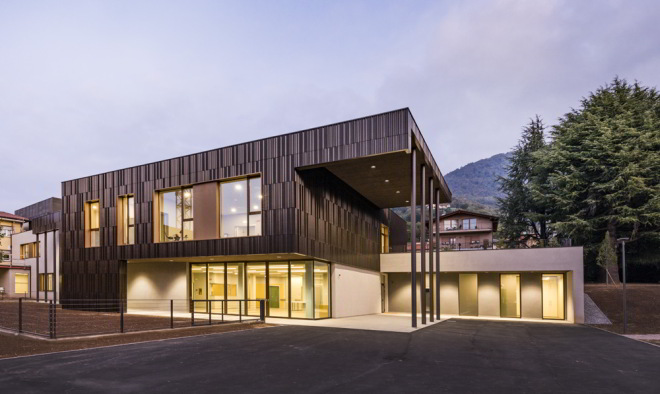 Dieses Projekt steht für die Erfüllung der Bedürfnisse einer ganzen Gemeinschaft älterer Menschen. Als 2016 der Wettbewerb ausgerufen wurde, konnte niemand ahnen, dass eine Pandemie diese Generation in ein Fokus von tragischen Dimensionen rücken würde. Trotzdem oder gerade deshalb wurde seine Realisierung, die 2019 begann, nicht unterbrochen. Ausdauer und Qualität wurden dieses Jahr belohnt: Studio Capitanio und DbmLab erhielten die Auszeichnung The Plan Awards 2021 in der Kategorie Gesundheit.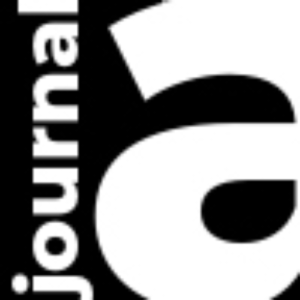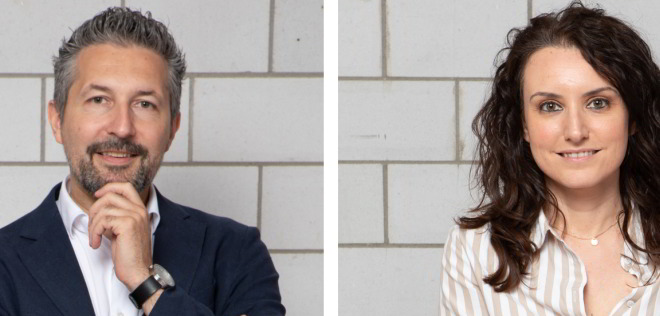 From diffuse to differentiated: Multi-service care centre by Studio Capitanio
The Italian office Studio Capitanio has designed an extension for the Nembro Sanitary Residential Care in collaboration with DbmLab: since 2021, a bright spot for the pandemic- and sorrow-stricken senior citizens of the Bergamo region.
With its around 12,000 inhabitants, the Italian municipality of Nembro is not a large town. All the more magnificent is its effort to provide architectural renewal for the people: including the multi-service care centre by Studio Capitanio Architetti and DbmLab, which has become operational in 2021. The planning impetus came in 2016 due to a lack of space at the senior citizens' facility in Via dei Frati. 2000 m2 were to be added to its 4000 m2. What was needed was integrative day care with thirty places, an outpatient system, fitness rooms, therapy cabins for external users and offices for the home care service. The Fondazione RSA di Nembro Onlus took the initiative and launched a public competition.
The abbreviation RSA stands for Residenza Sanitaria Assistenziale, in English Sanitary Residential Care. This is an outpatient home for a variable period of time (from a few weeks to indefinitely). It takes in persons needing care who cannot be looked after at home and require special medical treatment. The RSA acts like a hybrid. It differs from the hospital, which is for acutely ill patients, and the nursing home, which serves older people who are, to a degree, able to care for themselves.
Similarly complex, like the RSA category, is the winning design by Studio Capitanio from Bergamo – head of construction and team – and DbmLab from Milan. The architects' first task was to address the location of the existing facility. One of its many sections docks directly onto a church: the San Nicola. From this, other wings of the building angle off with sloping roofs. To the south, towards Via Ronchetti, they form a courtyard-like space. To the north, a three-storey wing merges into an intricately dissected extension that no longer exists. (This "fraying" end receives a transformation in the course of the winning design).
What is characteristic about the new annexe? Basically, it picks up on the principle of the facility's origin: just as the RSA was previously linked to the church, the current extension also develops out of the existing facility. Its already mentioned "frayed" end in the north becomes the new connecting point and, on this occasion, becomes remodelled.  With this, a compact multi-storey head building with a flat roof emerges on the Via dei Frati: the dining hall. (This building section receives a façade material that the design only features here: dark-coloured perforated sheet metal elements.) From the dining hall, the building, packed with the new room schedule, strives in the direction of Via Oriolo. However, it does not do so smoothly and stringently, for example, as a simple elongated block. This two-storey structure reacts differently at each stage of its journey. It begins as a slim corridor: the umbilical cord to the dining room. And as it progresses, various protrusions grow towards the north, anchoring the building into the slightly rising topography. In other words, the architectural team cleverly exploits a given difference in height: They have the building volume lean against the rear by filling in this area and designing it as a garden with paths accessible from the upper floor. Thus, if you look at the building from its north side, it appears to be a single-storey building (except for the cube with the dining hall) and makes an overall discreet impression.
Towards Via Ronchetti, the building behaves quite differently: It presents two storeys and incorporates numerous design elements. There are plain, lightly plastered areas, windows emphasised in their length with deep embrasures or floor-to-ceiling window bands. Above all, the principle of gradation and staggering dominates: recesses in the volumes (always highlighted with light paint) and projecting flat roofs with lanky slender columns create protective niches and airy portico-like zones.
Particularly typical of this south façade, however, is the terracotta cladding. (The north façade only has this material in its peripheral areas, see the dining hall). This glazed dark terracotta element — with its distinctive longish structure — stresses the verticality and height of the building. Its lines show an irregular arrangement and thus ensure that there is not too much visual rigidity. The ceramic surfaces lend the surface something organic; they are, for example, reminiscent of the notches in a poplar bark. Their variable profiles also ensure that they surprise with a different impression depending on the incidence of light – sometimes they approach a shiny black, sometimes a warm brown tone. Moreover, a closer look reveals how the terracotta structure seems to coincide with a "façade speciality" of the San Nicola: the traditional patterned Borlanti cladding of stones arranged in herringbone patterns.
The new multi-service care centre of Nembro functions like an attached wing, an arm – stretched out as if it were greeting the arrivals. So, in addition to gaining space, the building expresses a gesture: it wants to welcome visitors. At the same time, it gives the entire RSA area, which has a clear north-south emphasis, a counterpart and balance: an axis from west to east that provides clear zones (see the garden in the north). The multi-faceted envelope (especially the south façade) with its projections and recesses, niches and intermediate zones, nuances and shades in colour and texture keeps the architecture from appearing slick and unapproachable. Even the first dark general impression becomes outweighed by its advantage of being unobtrusive. At the same time, this dark impression serves as a lively contrast to the white-grey plaster facades and the warm evening light of the interiors. Not least, the new player of this plot helps to round off the church, vicarage and RSA – a scattered, cluttered ensemble – setting a modern accent. The multi-service care centre by Studio Captanio provides tangible support for the entire site, together with the new landscaping. In all this, however, it employs an architectural language that is not entirely alien to the site: it adopts the principle of assembled building sections, refining the randomly diffuse into the deliberately differentiated. With the help of this latest extension, the RSA emerges refreshed and assertive and signals orientation: an orientation that senior citizens and their relatives seeking help will appreciate and that promises a sense of comfort and security.
This project stands for meeting the needs of an entire community of older people. In 2016, at the time of the competition's announcement, no one could have imagined that a pandemic would put this generation in the focus of tragic dimensions. Despite this, or precisely because of it, its realisation, which began in 2019, was not interrupted. Endurance and quality were honoured this year: Studio Capitanio and DbmLab received The Plan Awards 2021 in the health category.
TRANSLATION BY ÖZLEM ÖZDEMIR